Welcome to the Internet home of the Elkins High School Band. This page is designed to help give information on current band activities as well as provide pictures and highlights of the year. The band program currently includes marching band, concert band, pep band, and jazz band. Elkins High School has one of the oldest and most respected band programs in the state of West Virginia. The traditions and values of the band are due to the ideals passed down by the groups that came before. This special groups of students come and go each year, but every year they leave the special memory of wonderful performances behind for all to remember. The lessons they have learned and practiced show them what it means to be a musician in this band. The school is located in Elkins, West Virginia, the center of activity in the beautiful, rugged, mountainous area of central West Virginia.
The band department at Elkins High is made up of a number of performing ensembles. By far, the most visible of these ensembles is the MARCHING TIGERS. Every year the marching band has a year round schedule of performances that involve parades, football games, concerts, as well as traveling throughout West Virginia to compete at several competitions and participate in parades. The director is Mr. Timothy Channell. Recent performances include the 1999 Charleston Sternwheel Regatta, 1999 Preston County Buckwheat Festival, Mountain State Forest Festival, and the Elkins Christmas Parade.
This web site has been created to honor and celebrate the excellence and tradition of these musicians and to allow parents, alumni, and boosters to learn more about the current activities of the band.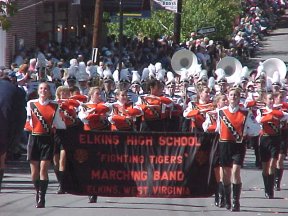 The 1999-2000 edition of the Elkins High School Fighting Tiger Marching Band is under the direction of Mr. Timothy Channell. The band has 115 members and a 17 member Dance/Drill Team "Tigerettes". Our field show theme this year is "Phantom Of The Opera",and as four parts. The songs we will be performing are: "Phantom Of The Opera","Wishing You Were Somehow Here Again", "Masquerade", and "Music Of The Night."
At the close of the Marching Band season we begin to focus on Concert Band. We also have many other bands that have now begun. Those bands include Jazz Band, Stage Band, and Pep Band.
Band Programs
Concert Band
Wind Ensemble
Jazz Band

Liberty Bowl, Memphis, TN.

Schedule of Performances

Band News

Band Boosters

Links







We now have some Elkins High School music in mp3 format. All sound files are in MP3 format and some browsers may require a plugin.
To listen to these files you will need one of the following tools:
Current versions of Windows Media Player or
Real JukeBox or
WinAmp for MP3 files or
RealPlayer for Real Audio files
MPEG 3 Audio
Trumpet Call
©1999 Elkins High School